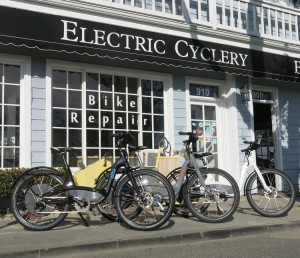 Before you buy an e-bike, you owe it to yourself to test ride Elby and compare it side by side with any other electric bike on the market.
Elby will mess with your head.
Point Elby up any hill and feel the awesome power of the Bionx D500 rear hub motor as it silently amplifies your pedal strokes to unreal proportions.
With a range of up to 90 miles and a three year warranty, Elby is a transportation alternative that really works. Envigorating and surprisingly powerful, Elby is a joy to ride.
The Elby electric bike is unisex and in fact almost universal in that it features a "one size fits most" frame that is adaptable to the rider size with an adjustable seat-post and pivoting handlebars that rise to accommodate riders up from 5′ to 6′ 5″.
Elby's low center of gravity provides a solid, confident ride. Made of lightweight molded aluminum alloy, the Elby electric bike easily carries riders up to 275 lbs (125 kg).
We have a whole shop full of e-bikes and without fail our trusty Elby is everybody's electric bike of choice for trips and errands around Laguna Beach. So cool and comfortable, it's hard to pass up. You feel safer on the road because of the regenerative braking and the outstanding lighting system.

Providing safety and security on the road after dark, Elby features a high intensity Supernova lighting system for outstanding visibility front and rear. Loaded with useful extras, Elby is a safe electric bicycle that makes you feel secure on the road and in traffic.
Elby's thought of everything including a rear rack system with an integrated fender that will handle panniers and cargo that weighs up to 50 pounds and a heavy-duty kickstand to prevent tip-overs when the bike is loaded up.

Available in Nine-Speed and Single-Speed editions.