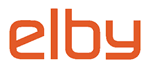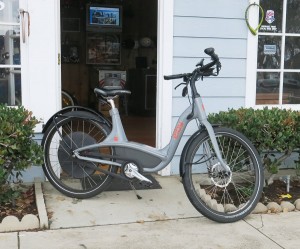 Smoothly, firmly, easily and silently for up to 90 miles, the ELBY electric bike addresses the needs of the modern electric cyclist.
With its adjustable handlebar stem, swept-back handlebars and upright geometry, this is one of the most comfortable electric bikes on the market and will fit riders from 5′ to 6'5″ tall.
Elby's secret weapon is the Bionx D500 motor system, a powerhouse 500 watt hub motor that leaves mid-drives in the dust and climbs the steepest of hills effortlessly and silently.
And Elby's huge 48 volt, 556 watt-hour Bionx battery is hidden down in the bottom of the bike frame for the lowest center of gravity on any electric bicycle available.
Up to 90 miles per charge. Forget about it.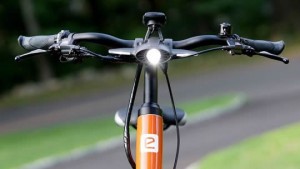 With a high-intensity Super Nova bike lighting system that provides outstanding visibility and a built-in rear carrier with an integrated fender that easily handles most panniers and loads up to 40 pounds, this is the all-purpose electric bike we've been waiting for.
Three year Bionx warranty, so you can relax and ride.
Test ride this amazing electric bike at Electric Cyclery.