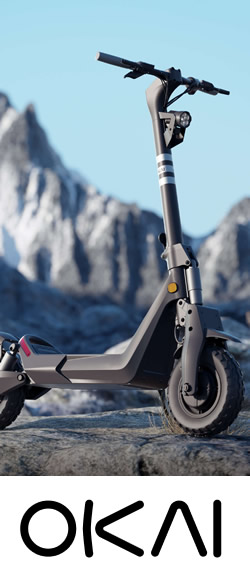 After two decades of research, development and production Okai has built fleets of scooter for ride-share companies like Bird and Lime.  In the past 15 years, Okai has built millions of electric scooters.
"You've probably seen an Okai scooter and maybe even ridden one without realizing it."
Okai also offers a high-end line of consumer scooter that Electric Cyclery is proud to present online and in-store.
Motor systems are all independently developed by OKAI. With 15 years of research and development of intelligent upgrades and strict control of 200 test processes, OKAI motors have achieved the ultimate in performance.
Vision Algorithm Technology
OKAI's Visual Algorithm Technology uses sound wave prompts to recognize the road traffic conditions and the movement of the surrounding vehicles and pedestrians to help protect and enhance the rider's experience.
The stand-out showcase scooter from Okai is clearly the Okai ES800 Panther Electric Scooter. 
The Panther has a dual drive system 1000W with 1800W peak power. This intense power allows it to reach a top speed of 37mph and climb up 35% inclines.