Introducing the Okai Neon Lite Electric Scooter, the ultimate commuter ride, high quality and high style.
Powered by a 36 volt 9.8ah lithium removable battery pack and a 300 watt brushless motor.
Comes standard with large 9 inch tires, built-in deck suspension, foldable handlebars, color changing LED lights on handlebar post and foot deck, 1.4 inch LCD screen with multi-style meter, cruise control, front electronic and rear disk brake. Unlock the scooter with NFC key, button on scooter or phone app.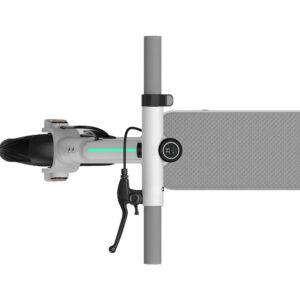 The handle bar post and foot deck designs allow the rider to choose different LED colors, giving a different look to the Okai Neon Lite Electric Scooter everytime you ride it.
The scooter is also equipped with a headlight to ride safely at night.
Enjoy the safety and style of this ultimate commuter ride.