The Okai ES800 Panther is a new breed of electric scooter, combining a rugged off-road build with two high-performance motors.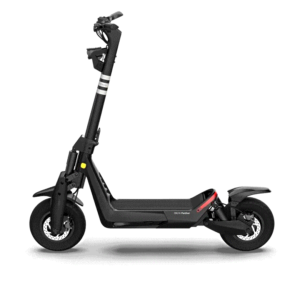 You may not know the name Okai but they have been supplying e-scooters to the major urban ride-sharing companies for several years.  Now Okai is releasing scooters under their own name and the results and reviews have been amazing.
The Panther has a dual drive system 1000W with 1800W peak power. This intense power allows it to reach a top speed of 37mph and climb up 35% inclines.
Optimized for speed as well as safety, the OKAI ES800 features front and rear fork anti-collision protection, and has an overall weight that is 30% heavier than most e-scooters, giving you a smooth and stable ride on any terrain.

Integrated into the head and stem the LCD touchscreen display adds to the sleek design appeal of the Panther.
The display is bright and easy to read both day and night with a layout that provides the rider with the basic at-a-glance information of the speed, battery life, remaining range estimation and drive mode. Using the OKAI App the rider can choose which display suits them for a smart and fun ride.
Okai ES800 Panther Electric Scooter specifications: