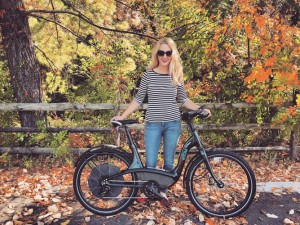 Electric Cyclery is fully stocked with Elby electric bikes and for a limited time we are offering free shipping on all Elbys shipped in the continental USA.
Elby is the hottest bike on the market at the moment and we expect to run out fairly quickly so be sure to order your Elby sooner rather than later.
The brainchild of automotive design and manufacturing legends Frank Stronach and Fred Gingl, Elby is a revolutionary re-think of the electric bike that is best described as "a pedal-assist electric bicycle that's attractive, versatile and confidence-inspiring from the first pedal stroke."
Simply apply the lightest of pressure to Elby's pedals and hang on, the acceleration is instantaneous.
The moment you climb aboard Elby and start pedaling the world kind of changes a bit.
You'll realize the practical applications are endless as Elby silently amplifies your pedal strokes to send you flying up hills with little or no effort.