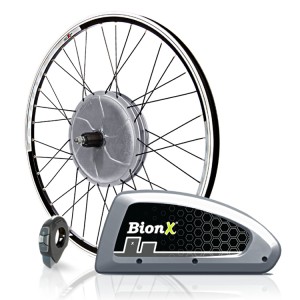 While supplies last, El Cyclery is presents the Bionx Silver System at a $600 discount.
Featuring a Bionx 350 watt G2 motor and 48V, 8.8Ah lithium battery paired with a latest generation RS3  handlebar-mounted controller, the Silver System is only $1499 for a conversion kit that will provide up to 65 miles per charge and is fully compatible with the latest Bionx add-ons and accessories.
An unbelievable deal at only $1499 with free shipping.
26″ or 29″/700c wheel sizes. Order while supplies last.
The P350 DX Silver System features a compact Bionx RC3 controller with a throttle and full functionality that can operate the bike alone or be paired with an optional Bionx DS3 Display, Bluetooth Module and Bionx High Output Light Set.
Two year warranty.
Bionx performance at a great price – the Bionx P350 DX Silver combines a 2016 battery and motor with the new RC3 controller.
Save $600 while supplies last.