"Designed to provide the world's smoothest ride on pavement, grass, sand, gravel or dirt, Onewheel is a futuristic yet totally burly machine designed to go into the world and have a hell of a lot of fun."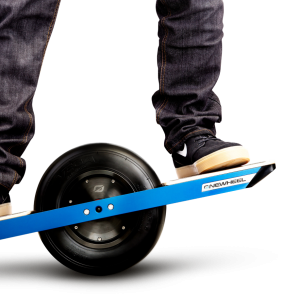 Invented by California engineer Kyle Doerksen, Onewheel combines a powerful 500-watt hub motor, LiFePo4 batteries and a single wheel for a seemless ride you can easily control over virtually any type of terrain. And amazingly, Onewheel is capable of climbing up to 20% grades.
Gyro's and Accelerometers read the board's position 14,000 times per second and feed information into a computer chip that's similar to the motion sensor in your smartphone.
S P E E D  C O N T R O L
Onewheel is ultra-intuitive and easy to learn. Simply lean forward to accelerate and lean back to slow down or move backwards. The more you lean, the faster you'll go. The maximum speed for the Onewheel is 15 mph with a range of 6-7 miles and a recharge time of only 20 minutes.
T U R N I N G
Turn by applying subtle heel-toe pressure for left or right. Onewheel turns in the direction of your body weight and the more you lean, the sharper the turn. Basic control of the Onewheel becomes second-nature after only a few rides.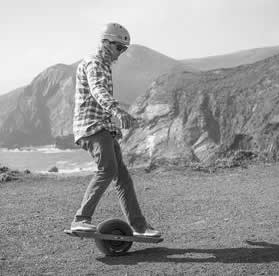 L E A R N I N G  T O  R I D E
Onewheel is completely different than anything you've ever ridden so you may want to check out some of the basics to get started.  Have a look at these "How to ride Onewheel" tutorials to learn how to mount, dismount, stop and steer before riding.
Download the Onewheel User's Manual
Electric Cyclery's got Onewheel Fenders, Chargers and Replacement Parts in stock.
Onewheel is proudly made in the United States and is assembled in Onewheel's assembly-line style factory in San Jose, California, just a few miles south of Silicon Valley.
Onewheel's state-of the art facility allows for on-site testing, riding and the highest levels of quality-control while creating some badly needed American manufacturing jobs for a change.
Job well done, California. Nice work, Onewheel.
The Race For The Rail at the GoPro Mountain Games last summer was insane, with 16 of the best riders going head to head for bragging rights and a chance to win the Rail Trophy. Riders came out from across the country to compete on the hardest and largest Onewheel boarder-cross course ever built.
Available in-store in our Laguna Beach showroom.