BH Easy Motion Neo/Evo/Nitro Electric Bike Bluetooth Set for Android or iPhone devices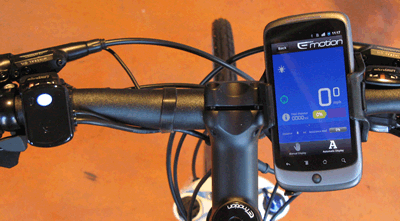 Leading the way to a new breed of bluetooth controlled electric bikes, BH Easy Motion has introduced a wireless, bluetooth device that transforms your smart phone into the control panel of your BH E-motion Neo or Evo electric bike.
Setting up your phone display is as simple as swapping out the standard display for a small bluetooth device that fits into the Neo console cradle. Pair it up with your phone and you are ready to roll.
Fine tune your ride
A larger data screen allows you to view all your riding and trip data and micro-tune your assistance levels with slider control. Tune eco-mode down to tiny levels for extended range.
View and download your riding history including distance, battery output, and average speed. Even troubleshoots your system if there's trouble.
Automatic Distance Control
Now, this is cool. Enter your trip distance and your bike will automatically adjust the assistance level needed to insure enough battery power to get there efficiently with our running out of power.

GPS Route Mapping

• Full system diagnostic tool to check the system:
• SOH (Status of Health) of the battery.
• Torque sensor calibration
• Error identification and protocol

ORDER ONLINE WITH FREE SHIPPING

Download the BH Bikes Premium app for Android or iPhone.

See the Easy Motion Bluetooth Guide for detailed setup and operation instructions.