Bosch PowerTube batteries are integrated into the bike frame protecting them from the elements and concealing them from view. Bosch PowerTubes are available for with the plug positioned for vertical or horizontal installation within the downtube, which allows for a narrower or wider cross section when viewed from above.
400Wh battery capacity.
Voltage: 36 V
Capacity: 11 Ah
Energy content: approx. 400Wh
Weight: approx. 6.3 lbs
Dimensions: 416 x 84 x 65 mm (horizontal), 416 x 65 x 84 mm (vertical)
Charging time*: 50% charge approx. 2.1 h, full charge approx. 4.9 h
*Charging time with the 4A Standard Charger.
Vertical and horizontal mount batteries are not interchangeable. Purchase the battery matching the bike's battery mounting location.
Horizontal mounting. 
Be sure if your bike requires a horizontal or vertical Power Tube battery.
If your battery is Vertical, the product number on the bottom should end with 558.

If your battery is Horizontal, the product number on the bottom should end with 557
No Returns on Batteries.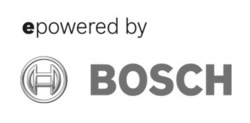 User's Manuals for Bosch Electric Bike Motor Systems

Bosch Performance Line User's Manual
Bosch Performance Line Speed User's Manual
Bosch Active Line BDU2XX User's Manual
Bosch Active Line BDU3XX User's Manual
Bosch Active Line Plus User's Manual