Liv is the first cycling brand completely dedicated to women.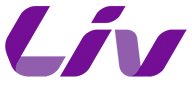 Even better, Liv Cycling is founded, designed, engineered, operated, raced, researched, and powered by women around the world.
Discover what is possible with Liv's line of powerful, natural-feeling women's E-bikes.
Whether you want to tackle new terrain, amp up your speed to keep up with faster riding buddies, or take control of your lifestyle and ditch the car, Liv has an electric bike that will help you conquer your ride in record time.
Check out the new 2020 Liv Women's electric bikes from Liv Cycling.
Test ride at Electric Cyclery in Laguna Beach, California.