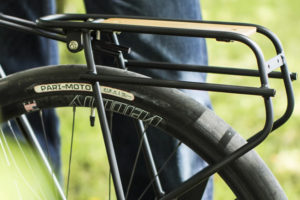 The Everyday Rack is designed to mount to frames with or without eyelets and will fit around wheels and tires up to 29×2.4″.
The bamboo platform is slightly tapered, giving the Everyday Rack a light, racy feel that looks great on a wide range of frame styles.
The lower mounting bars allow panniers' center of gravity to be closer in line with your wheel, improving rear-end stability even when hauling heavy loads. Additionally, it means the platform is easily utilized, even when riding with two panniers.
Double ply bamboo deck
Deck measures: 209 x 76 mm (8.25 x 3″)
Rated to 25 kgs (55 lbs)
included clamps for bikes without seat stay mounts
Requires Eyelets: No
Color: Black
Material: Aluminum/Bamboo
Disc Brake Compatible: Yes
Weight Limit (lbs): 55
Weight: 725
Platform Dimensions: 8.25 x 3″