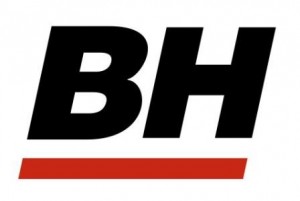 Pioneering the integrated down-tube battery, Easy Motion electric bikes from BH Bicycles look and ride like regular bikes.
Using high-end bicycle components and a choice of the electric motor systems, the E-motion electric bikes have something for everybody.
BH E-Motion electric bikes of North America offer four distinct model lines for 2018.

---
The Evo Electric Bikes are classic urban electric bikes with powerful 500 Watt hub motors featuring pedal assist or throttle on demand.
SEE: EVO STREET PRO, EVO CITY WAVE PRO, EVO CITY PRO, EVO CITY NITRO, EVO CROSS PRO, EVO AWD BIG BUD PRO
---
The Atom Electric Mountain Bikes featuring the German-made Brose mid-drive system and high quality mountain biking components.
SEE: ATOM DIAMOND WAVE PRO, ATOM 27.5, ATOM LYNX 6 27.5 PRO, ATOM BIG BUD PRO
---
The new Atom X Electric Enduro Bikes showcase the latest break-throughs in e-mountain biking. Atom X is top of the line all the way.
SEE: ATOM X 27.5 + PRO RC, ATOM X LYNX 5 27.5 + PRO, ATOM X LYNX 6 27.5 + PRO
---
Rebel electric mountain and city bikes are powered by Yamaha electric bike systems. The Rebel electric bikes from BH and Yamaha represent a new level of performance.
SEE: REBEL 27.5″ LITE, REBEL 29″ LITE,  REBEL LYNX 5.5 27.5″ LITE, REBEL CROSS LITE, REBEL GRAVEL-X, REBEL 27.5″ PW-X, REBEL LYNX 5.5 27.5″ PW-X,
---

Available now at Electric Cyclery in Laguna Beach.
Stop by our Laguna Beach showroom for a test ride up our Wave Street hill and see how the BH Easy Motion electric bikes perform for yourself.
Easy Motion Parts from Electric Cyclery
Check out our extensive selection of E-Motion batteries, motors, electronics and add-ons for the Neo, Evo, Nitro, Atom and Rebel electric bikes from BH Easy Motion.
Trust Electric Cyclery to keep your electric bike on the road for years to come.