No matter which Blix model you choose, you're getting a bike with sleek design and high-quality components.
BLIX ELECTRIC BIKE: STOCKHOLM
The Blix Stockholm is a high-performance commuting and all around town electric bike.  A rear 350 watt motor and 36 volt 13.5 Ah battery pack provide superb hill climbing power with a range of up to 45 miles per charge. Features puncture resistant tires, fenders, rear rack as well as front and rear mounted lights.
$2390 – Black or White – Test ride at Electric Cyclery
BLIX ELECTRIC BIKE: KOMFORT
The Blix Komfort is a unisex Dutch-style bike featuring the ultra-reliable Active Drive motor system and Shimano Acera 8 speed gearing. Rain or shine, night or day, this durable bike is one of the most popular electric bikes on the Scandinavian market. Beautifully simple to operate, the Blix Komfort is a joy to ride.
$1990 – Black or Green – Test ride at Electric Cyclery
BLIX ELECTRIC BIKE: VIKA (FOLDING)
Compact, sturdy and simple, the Blix Vika is a powerful folding electric bike perfect for leisure riding or urban commuting. Blix electric bikes don't just look good, they charge up hills and feel solid on the road. The Blix Vika comes fully assembled with rear rack, fenders and an on-board light system.
$1590 – Black or Green – Test ride at Electric Cyclery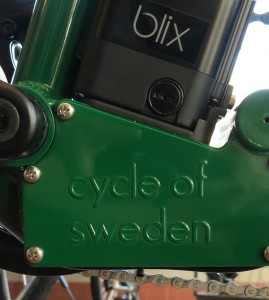 Blix Electric Bikes out of Santa Cruz, California is working with suppliers providing the Scandinavian market with electric bicycles since 2006. Developing affordable, user-friendly and well-designed electric commuter bicycles, Blix Electric Bikes appeal to the frequent commuter who is looking for smart and convenient transportation modes.
With classic looks inspired by vintage European design, quality components from well-known manufacturers, and a starting price at $1,590, Blix brings an interesting product offering to the bicycle market that can make the difference for many who consider purchasing an electric bicycle.