The Sena R1 Smart Bicycle helmet is designed with an in mold poly-carbonate shell and has a version available with Multi-directional Impact Protection helmet technology (MIPS). MIPS cycling helmets add an extra element of protection to your ride in the event of impact.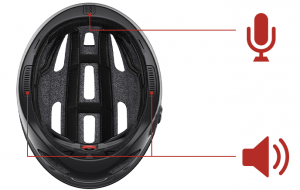 A SAFER WAY TO RIDE
When riding roadside, especially while commuting, riders shouldn't have their hearing impaired by ear buds since the ability to hear vital traffic cues is imperative to cyclists safety. The R1 allows riders to be fully aware of their surroundings and pick up on ambient noises without any interference.
The R1 road cycling helmet is lined with removable and washable inner padding to provide premium protection and fit. The R1 features a smooth eco-leather chin strap, with a perfectly placed chin pad for ultimate comfort and security throughout the ride, as well as our Sena spin lock to secure the perfect fit for every rider.
Fully Bluetooth integrated bicycle helmet with HD Audio speakers and microphone
Talk with up to 3 other friends via Bluetooth intercom over up to 900 meters (0.5 miles) in open terrain
Connect with your phone for fitness aps, GPS, music or to take or make phone calls.
User-friendly three-button design on the side of the helmet makes it easy to navigate and use
Sena's patented Advanced Noise Control technology for minimal wind and background noise allows you to communicate easily while riding.
Compatibility with additional Bluetooth accessories and smartphone apps for larger intercom groups and feature controls
Operating time: 12 Hours talk time, Charging time 3.5 hours with Lithium Polymer Battery, Weight 380 g (13.40 oz)
3 sizes S, M(55-59cm), L(59-62cm) with Sena Spin Lock for adjustable sizing
2-year warranty and firmware upgrades
How to use the Sena R1 Smart Bluetooth Bicycle Helmet