From Boosted, a California company best known for their high-end electric skateboards presents the Boosted Rev, a premium electric scooter built to automotive standards.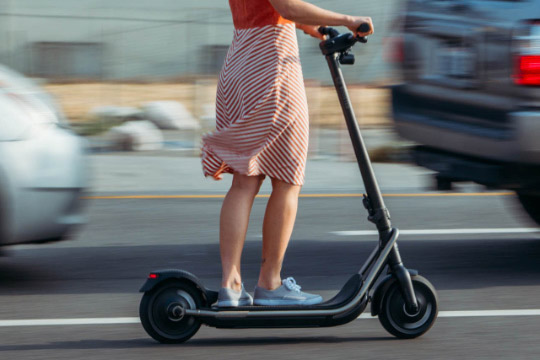 The Rev electric scooter from Boosted is street-worthy scooter you can rely on.
Easy, stable and fast as hell, the Boosted Rev sets a new standard for electric scooters. Totally smooth at speeds up to 24 mph, the Rev feels solid and controllable considering massive torque from dual front and rear  motors.
Speed past traffic at 24 mph. Go up to 22 miles on a single charge.
Boosted Rev can take you up to 24 mph with instant acceleration. Rev's dual-motor powertrain, with precision-tuned acceleration curves, create a seamless experience from the throttle down to the wheels. Change your mode to adjust performance and range.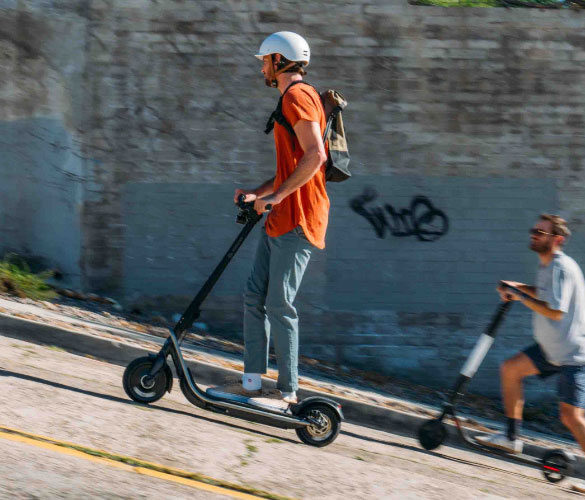 Eat up the hills.
Boosted Rev tackles up to 25% hills with ease while other scooters lag behind.
We've tested it on our local hills and they ain't lying.  The Boosted Rev is a hill-eating beast! Nothing else compares.
Regenerative Braking
Rev's unique electronic braking is regenerative and is activated by moving the thumb throttle to the right.
Boosted Rev's 1500 W dual-wheel drive and proprietary powertrain give you the control and acceleration you need to react in changing traffic situations, and its best-in-class electric braking lets you handle steep hills or stop on a dime.
Integrated app
Track your miles, get software updates, control and dim the headlight, and record ride data. The Boosted app will walk you through your product and even features Apple watch integration.
Battery charger, two spare 9″ inner tubes and inflation valve adapters are inculded.
"We didn't want to build a disposable scooter like most of the cheap scooters you see out there today, we wanted to build something that would last for years. Many of our original Boosted Boards from over 5 years ago are still on the road today, and that's what we want from the Rev."