Montague Corporation of Cambridge, Mass. has a long history with electric folding bikes. Back in the early 2000's, their folding Paratrooper bike (designed for the US military) was chosen to showcase the ground-breaking Wavecrest Tidalforce electric motor systems. The Montague Paratrooper was also a popular choice for Bionx electric conversions in later years.
The M-E1, full-size electric folding bike from Montague is a masterpiece of design and folding bike engineering.
With full size 700c wheels, front suspension, and standard components, the M-E1 offers the same ride quality as a non-folding e-bike, but can be stored in the closet, train, or car trunk, keeping it safe from theft and out of the elements.
Once folded, the bike can be rolled for easy transport.
Test ride at Electric Cyclery.
T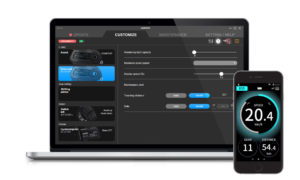 he Shimano E-Tube Project software for PC and iOs/Android allows you to update your drive system's firmware, customize settings, and get useful information by connecting with your bike through an easy to navigate portal.
Customize and Update with E-Tube
The E-Tube Ride app turns your smart phone into a cycle computer with route mapping and real-time display of ride data.
DOWNLOAD THE SHIMANO E-TUBE APP
Montague M-E1 Specifications