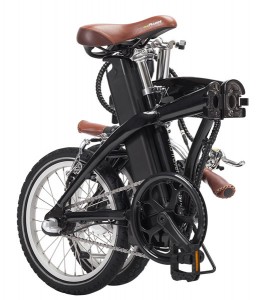 The Vika Travel folding electric bike features superb craftsmanship, including internal gears that are protected while folding, a sturdy frame ad magnetic clips that connect when folded.
Weighing in at 36 pounds (very light for an electric bike), the Vika Travel easily folds into a manageable size. Yet it's powered by a strong 250 watt motor that assists for up to 30 miles with a maximum speed of 17 mph. The battery is located under the seat to provide a low center of gravity and a balanced riding experience.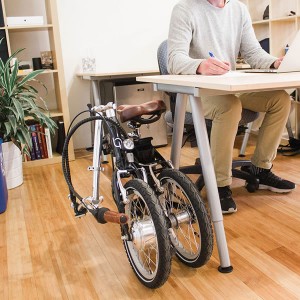 The Vika Travel features a high-performance 8.8Ah Panasonic lithium-ion battery, which provides power for up to 30 miles.
The Blix handlebar-mounted control panel is discrete and user-friendly. The rider can choose between three levels of power assist, but also an automatic mode that uses a cadence sensor to determine how much assist you need based on which gear you are using.
The Blix electric bikes also feature puncture resistant tires, fenders, rear racks as well as front and rear mounted LED lights powered directly from the battery.

Ride with Spin Tech
Blix Electric Bikes are powered by the Spin Tech™ system, a fully automated, electric pedal assist system with four levels of power with a thumb-throttle control always available.
The Blix Vika Travel is classified as a Class 2 electric bike in the state of California.
Blix replacement parts and accessories are available from Electric Cyclery.