A dynamic bike tire in its purest form. The Marathon Supreme electric bike tire was the first Evolution line Marathon and now in its second generation.
Its OneStar compound makes it even faster. With the new profile it not only looks good, but also rolls more nimbly than ever before.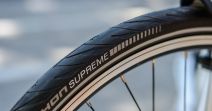 TUBELESS EASY MICROSKIN
Tubeless for high-pressure tires is now possible on a reliable basis thanks to a new patented MicroSkin design. Tubeless offers clear advantages compared with tires that have tubes: in terms of speed, comfort, grip and puncture protection.
This is because the rolling resistance is lower, the cut resistance is far improved and the weight is significantly lower in comparison with the old tubeless technology.
If you have a tubeless-compatible or tubeless-convertible wheel rim, the installation is very easy.