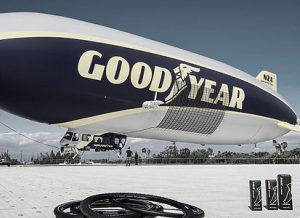 From aggressive trail riding to the demands of downhill racing, the Newton ST from Goodyear bike tires delivers consistent cornering bite, predictable braking control and premium performance in ever-changing conditions.
The tread design features ramped center knobs to reduce rolling resistance, while tall, arch-supported side knobs provide ample braking and cornering grip. Taller, meatier, and more aggressive than the Newton, the Newton ST ups the ante when front grip and loose terrain traction is a priority.
The Goodyear name first appeared on a tire — a bicycle tire, to be precise — in 1898. Since then, Goodyear and the legendary Winged Foot™ logo have been synonymous with victory, dominating the winner's circle across the entire spectrum of motorsports.
Goodyear tires have shouldered heavy-duty work on everything from airplanes to Zambonis. They've rolled on the moon and have helped steer millions of motorists along their journeys.
Now, 120 years after they're original offering, Goodyear Bike Tires is proud to introduce a new line of performance bicycle tires. Developed with Rubber Kinetics, the Goodyear line utilizes refined compounds and casings, each purpose-built for their intended environments.
With Tubeless Complete™ designs focused on modern electric bike usage and sizes, Goodyear premium bicycle tires offer leading-edge performance in traction, wear, rolling efficiency and puncture resistance.