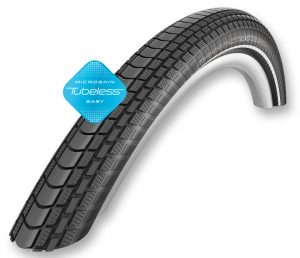 Marathon Almotion are equipped for use with tubes or for tubeless operation. The patented Microskin construction tires are also significantly lighter. Of course, a normal tube can also be used.
Tubeless-Easy with MicroSkin fabric
OneStar compound helps to achieve an extremely low rolling resistance
Tubeless tires guarantee the lowest rolling resistance while maintaining very high puncture resistance
High speed E-bike ready
The ALMOTION was Schwalbe's first touring tire in 2014 which could be mounted tubeless. This initial version was celebrated as a "rolling wonder" by the press. Now, the ALMOTION also has the new MicroSkin technology and is a leader in terms of its performance data.
It is absolutely the fastest Marathon bike tire.