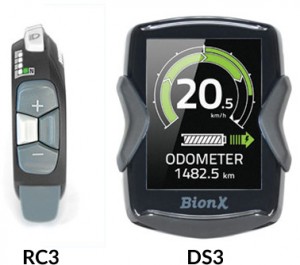 The BionX DS3 Display for the Elby S1
The BionX DS3 Display is stylish and smart. It features an all-new screen with full-colour graphics, along with multiple display styles to show you exactly the information you want.
The DS3 Display is operated remotely with the intuitive new RC3 Controller, so you never need to take your hands off the handlebars.
Transflective color display
Quarter-turn mounting mechanism
Rubber hand grips on the sides for secure handling
Multiple mounting positions
Multi-language menu