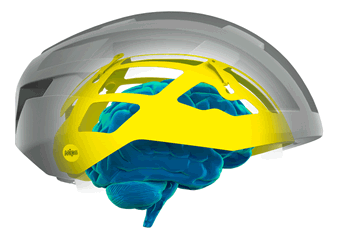 Prevention is way better than a bike crash
Open up a totally new level of safety. Lumos helmets are designed to make you highly visible and your actions predictable. Leaving nothing to chance.
MIPS is a brain protection system
The MIPS Brain Protection System (BPS) is found inside this helmet, generally between the comfort padding and the EPS (a high-quality foam used to reduce energy).
MIPS stands for Multi-directional Impact Protection System. For certain impacts, the MIPS BPS can reduce harmful forces transmitted to the brain.
Helmet with lighted Turn Signals
No more making your move and hoping for the best. Let other motorists know your intentions by using built-in lighted helmet turn signals.
Automatic Brake Lights
Slowing down? Let everyone behind you know with the automatic brake lights.
Ride in any weather
Rain or shine, you can be count on your Lumos Street to brave any storm.