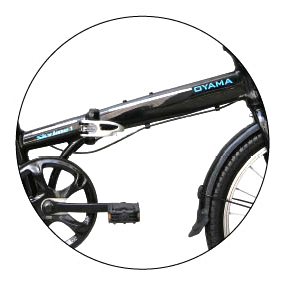 Oyama has built quality folding bikes for over 50 years. Oyama folding bicycle technology is legendary in the bike world and is now available in North America.
Oyama USA is fully-supported with parts, support and expertise from the extremely experienced folks at Foldaway Solutions.
With the coolest tech and forward-thinking innovation, Oyama pays attention to the details that make for an excellent folding bike ride. Oyama delivers extreme value, performance and reliability in each and every model.
The simple and affordable Oyama Skyline One was designed to be a lighter, superior single-speed folding bike that gets the job done for a reasonable price.
The Skyline 1 from Oyama is packed with value featuring a rear cargo rack, front and rear fenders fenders, a kickstand and there's even a bell.
Oyama quality and innovation, a folding bike pioneer since 1966.