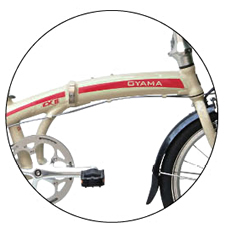 The Oyama CX8 features a sweeping frame design, high-end components and an alloy frame and fork to provide a light and nimble ride. The CX-8 also features upgraded wheels with Schwalbe Big Apple tires. Rack and fenders are also standard.
Oyama has built quality folding bikes for over 50 years. Oyama folding bicycle technology is legendary in the bike world and is now finally available in North America.
Oyama USA is fully-supported with parts, support and expertise from the extremely experienced folks at Foldaway Solutions.
With the coolest tech and forward-thinking innovation, Oyama pays attention to the details that make for an excellent folding bike ride. Oyama delivers extreme value, performance and reliability in each and every model.
Oyama quality and innovation, a folding bike pioneer since 1966. Ride the best folding bike you can buy.
Available now in Champagne Cream and Matte Charcoal frame colors.