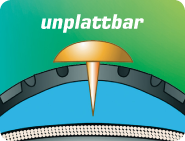 The Flat-less tire and Schwalbe's best selling model.
Simply the most puncture resistant pneumatic tire there is. The Marathon Plus is the best choice for Electric Bikes. The patented, 5 mm thick SmartGuard layer has a significant advantage in rolling resistance.
Most sizes are approved and tested for E-bikes up to 50 km/h.
Wheel Diameter: 26"
Primary Color: Black
Bead Seat Diameter (ISO): 559
Tire Width: 1.35
Bead: Wire
Tpi: 67
Tire Psi: 65-100
Tire Weight: 775g
Tire Compound: Endurance
Tire Technology: SmartGuard, Reflex