Designed and manufactured in Switzerland, the maxon electric BIKEDRIVE is extremely light and launches from 0 to 20 mph in less than 3 seconds.
Engineered to fit most high-end full-suspension mountain bikes, the maxon BIKEDRIVE system kit weighs only 13 lbs and allows you to instantly convert your bike into an electric bike that rides just like it did before.

This BikeDrive package includes the rear wheel motor, 48 Volt battery, charger, cables, and a quick-release or through-axle adapter to match your bike's wheel setup.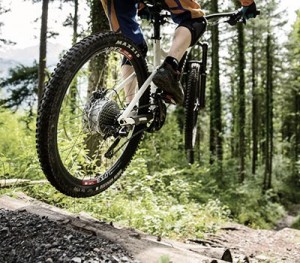 Maxon's BIKEDRIVE is a permanent-magnet ironless-core electric bike motor that outperforms virtually everybody in terms of power density, acceleration, heat dissipation, and overall efficiency. BIKEDRIVE blasts out of the gates with 500 watts continuous while operating at an unheard of 85% efficiency (75% on steep hills). That's over three times the efficiency of most electric bike motors. Over-heating BIKEDRIVE is impossible.
The maxon Powergrip that lets the rider choose from three twist-click positions and a full-grab throttle-boost to temporarily accelerate over demanding obstacles or zooming out of a corner with a throttle-like feeling. The BIKEDRIVE system weighs only13-lb and provides the balance professional riders demand. Most e-bikes don't have the weight distribution necessary for serious riding because of excess weight and poor efficiency (over-heating). Only BIKEDRIVE is light enough to handle like a real mountain bike.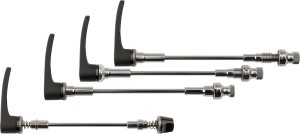 BIKEDRIVE is the only system on the market that's compatible with the new 148-mm (Boost) hub standard and 12-speed SRAM Eagle Drivetrain.
Available with axle dropout widths of 135mm, 142mm or 148mm for bikes with quick-release axles or through-axles.
Download the Maxon BIKEDRIVE user's manual
Learn more about maxon motor's history including their crucial role in NASA's Mars Rover expeditions.