A radical new take on the bicycle hub motor, the Bionx D series motors are flatter and thinner that traditional hub motors and fit neatly between the wheel spokes providing more wheel flex for greater grip and traction.
Mad Acceleration: By increasing the motor diameter, the tangential speed of the motor's magnetic components is increased as well. Another benefit of an electric motor with a larger diameter – the magnetic components are placed on a larger circumference thus move at higher tangential speed producing lightning-fast acceleration.
Crazy Torque: At a peak torque of 55 Nm and a steady state torque of 25 Nm, the D-Series is aimed at the on-road and off-road rider who wants high performance and modern design in one product.  Hang on tight.
VDB (Very Dense Battery): Ride from 50 to 80 miles on a charge using the D500's 48 volt ~11.5 amp hour (555 watt hour) configuration with Lithium Manganese Cobalt cells by Panasonic. Up to 2 hour ride time and a life of 1000 cycles. Only 8 lbs.
The P350 DV features a compact Bionx RC3 controller with a throttle and a Bionx DS3 Display with full color screen and Bluetooth capability (Bluetooth Module sold separately). 

The DS3 Display mounts in the center of your handlebars and is operated remotely with the intuitive RC3 Controller so you never need to take your hands off the handlebars.
Silent Power:  Unlike mid-drive systems and geared hub motors that whir and hum, the Bionx D Series electric motor isn't just quiet – its totally silent. No one will hear you coming.
Descend with Regen: All Bionx systems come with Regenerative Braking, so when you squeeze your bike's brake lever, energy is sent back to the Li-Ion batteries helping them recharge.
And if you are flying down a steep hill and want some extra braking, or want a greater workout as you pedal, switch the BionX system into one of the four Generate Mode levels. You'll feel resistance, and even more energy is returned to the battery pack.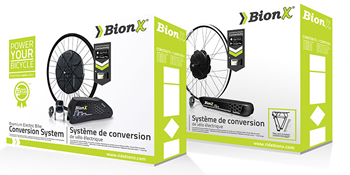 BIONX ELECTRIC BIKE SYSTEM OVERVIEW AND INSTALLATION
Watch these detailed instructional videos to get a better idea of how the Bionx system works and step by step instructions to install a Bionx electric bike conversion kit on your bicycle.
Electric Cyclery unlocks the power of Bionx
Software setting changes to California Class 3 allow a top speed of 28 mph and are done at authorized California Bionx dealers. High-speed (Class 3 settings) are currently available to California residents only. When ordering, please choose the appropriate CLASS setting.
---
< Electric Cyclery Bionx Gallery
Check out some of our favorite Bionx Conversions from the present and years past.
Free Bionx Installation at Electric Cyclery
Electric Cyclery will install a Bionx motor on your bike free of charge with all in-store Bionx kit purchases. Let the professionals do it right. Bring in your bike to be electrified and you can be riding the same day.
For appointments call 949 715 2345.
---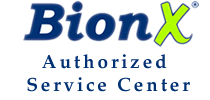 With over a decade of Bionx service experience, Electric Cyclery is an Authorized Bionx Service Center with the latest diagnostic equipment and the expertise to get you back on the road.  Contact Electric Cyclery for advice or suggestions or order online from our complete selection of Bionx Parts.
---
Bionx D500 DV Specifications