The Bionx D500 Paratrooper is a military-grade electric mountain bike that folds for easy transport, and the whole thing weighs only 45.2 lbs.
A 48V, 11.6 Ah Lithium-Ion battery pack is mounted down low on the frame, providing the perfect center of gravity for balanced riding in the dirt or on the pavement.
The Electric Cyclery "Biontague" Package includes a free Montague Carry Bag, Kickstand and Folding Pedals. This is an exceptional folding electric bike that is delivered ready to ride.

About the Montague Paratrooper
The Montague Paratrooper X-series Tactical Bike is bold, aggressive, and ready for action. Strong as a tank, light as a day pack. The Montague Paratrooper is a full-size, 24-speed mountain bike deployable on almost any terrain.
The Paratrooper is equipped with industry-standard, 26-inch wheels, front disc brakes, and quality components serviceable at any bike shop.
About the Bionx D500 Motor System
The Bionx D500 motor is a powerful animal. A radical new take on the bicycle hub motor, the Bionx D series motors are flatter and thinner that traditional hub motors and fits neatly between the wheel spokes providing more wheel flex for greater grip and traction.  Add a very large 48 volt ~11.5 ah (555 watt hour) battery and you've got the mother of all conversions kits.
 The Bionx D500 / Montague Paratrooper is available now from Electric Cyclery in Laguna Beach.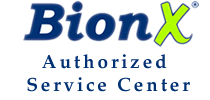 With over a decade of Bionx service experience, Electric Cyclery is an Authorized Bionx Service Center with the latest diagnostic equipment and the expertise to get you back on the road.  Check out our complete selection of BIONX PARTS.
Original rear wheel included: We throw in the original Montague rear wheel free of charge in case you want to convert back to pedal power or move your Bionx motor to another bike.