Gazelle Dutch Bicycles began in 1892 when Amsterdam mailman Willem Kolling ordered a bicycle from England, at a time when cycling was only for the wealthy and upper-class.
Willem teamed up with a local ironsmith and in 1902 together they produced the very first Gazelle bicycle.
GAZELLE BICYLES – SINCE 1902, THE MOST TRUSTED BICYCLE IN THE NETHERLANDS.
Today, Gazelle is one of the most trusted electric bikes in Europe and Gazelle is always pushing the envelope of innovation in electric motor assist systems.
Gazelle recently built a new state-of-the bicycle factory in Dieren, the Netherlands on the same grounds where they've been building top-quality bicycles for last 120 years. In the classic Dutch tradition, part of the original building remains untouched today.
On Gazelle's 100th anniversary 1992, Gazelle received a royal endowment from Dutch Queen Beatrix bestowed the honor of "Royal Bicycle Manufacturer" or Royal Dutch Gazelle in recognition of Gazelle's contribution to Dutch society and the culture of the Netherlands.
Today Royal Dutch Gazelle manufactures over 300,000 bikes each year and is the market leader in the Netherlands.
Gazelle has a hundred year legacy to uphold. It goes without saying that quality comes first.

Gazelle Arroyo C8 HM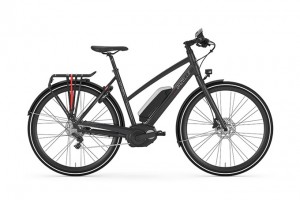 Gazelle CityZen C8 HM
Please call 949 715 2345 to check model and size availability. 
In-store sales only.  No internet sales or shipping.