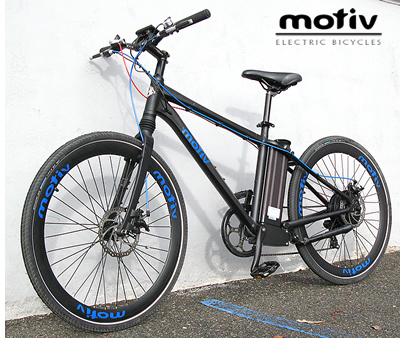 The Motiv Shadow is a lightning fast, lightweight monster that eats hills for breakfast.
Don't be fooled by the pedal assist activation, Motiv are using an excellent crank sensor, and they've got it right. Pedal enough to make the motor kick in, and the Motiv Shadow is ripping down the road taking full advantage of its 500-watt geared motors. Five levels of assist—the lower the level, the further you go per charge.
Motiv electric bicycles use a powerful, 500-watt rear hub geared motor that more than handles the power supplied by the 36v or 48v battery. Geared brushless motors offer increased torque and hill climbing powered by the use of a planetary gear inside the motor. Geared hub motors also allow for more efficiency and battery range, which extends battery life.
The Motiv Shadow provides impressive power with a choice of 36 or 48 volt Lithium Ion Polymer batteries but the motor really works well with 48V if you've got some serious hills to tackle.
Available for test rides for a limited time at Electric Cyclery in Laguna Beach, California

Coming in 2014

Call Electric Cyclery for more information

about the Motiv Shadow – 949 715 2345