---
Monkeylectric's Monkey Lights are rugged, practical, high performance bicycle lights that keep you visible in all weather conditions. The Monkey light straps to your spokes and displays full color graphics on your spinning bike wheel.
A rugged and well-designed US-built product with extensive real world testing, Monkey Lights are lightweight, waterproof, and attach with theft-proof steel straps. Show your style with cutting edge themes designed by Monkeylectric's electronic artists. Night riders can choose from preset patterns and colors to create hundreds of combinations.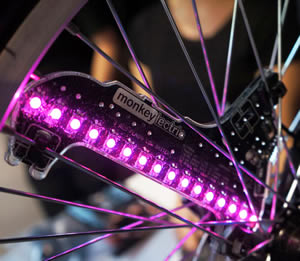 ---
Runs on 3 AA batteries (sold separately) in a removable battery pack. Monkey Lights fit on any wheel larger than 20″ with 18-40 spokes and run up to 40 hours. Light up your road, mountain, cruiser, or BMX bike and hit the streets!
How does it work?
Monkey light takes advantage of a trick of human vision called Persistence of Vision (a phenomenon of the eye by which an afterimage is thought to persist for approximately 1/25 of a second on the retina). Persistence of vision kicks in at 8 mph or so, with patterns filling a portion of the wheel. The faster you go, the more your wheel is filled. A fully lit wheel appears between 15 and 20 mph depending on wheel size and pattern.
Monkeylectric M210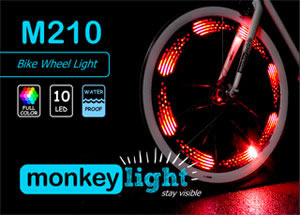 The M210 is lightweight, with a durable, waterproof rubber coating, and sturdy three-point strap attachment to the spokes. The battery packs mount to your wheel's hub for a totally vibration-free and balanced ride.
The M210 uses 10 full-color ultra-bright LEDs and features pre-programmed themes for stunning, full color, 8-bit graphics on your spinning bike wheel with 20 pre-programmed themes. Runs up to 40 hours. Light up your road, mountain, cruiser, or BMX bike and hit the streets!
Light Size: 135 x 54 x 13mm
Light Weight: 40g
Battery Holder Size: 85 x 50 x 38mm
Battery Holder Weight: 68g without batteries
LED: 10 Full color, ultra bright LED
Stainless steel anti-theft strap
Warranty: 1 year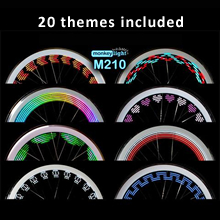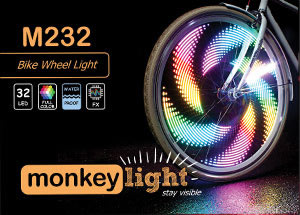 The M232 Party Light is the wildest, craziest Monkey Light yet. This new high-octane design attaches to your wheels to produce an awe-inspiring array of bright and colorful light patterns while you ride, keeping you visible and stylish after dark.
The M232 uses 32 stunning full color LEDs and includes 42 pre-programmed themes to turn heads out on your ride. This is just one light, so if you want to run them on both wheels, you need to order two.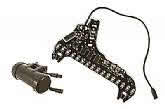 Light Size: 165 x 110 x 10mm
Light Weight: 65g
Battery Holder Size: 85 x 50 x 38mm
Battery Holder Weight: 68g without batteries
LED: 32 Full color, ultra bright LEDs
Stainless steel anti-theft strap
Warranty: 2 years