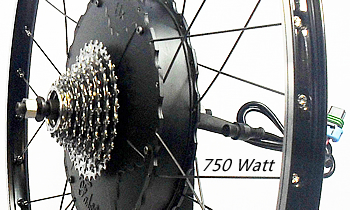 FALCO 750W Intelligent eM Hub Electric Bike Motor with Integrated Controller
Motor includes 750 Watt 5-Phase Technology with an integrated controller and up to 60Nm of torque, disc brake and freewheel adaptors, torque arms, axle adapters and bolts.

This Falco Motor includes a choice of Thumb or Twist Throttle.

Batteries, Consoles and Crank Sensors are optional add-ons.
See Falco Complete Motor Kits for conversion-ready electric bike systems in multiple configurations.

Motor only - $995 ; Motor built into wheel - $1125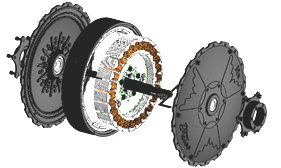 Falco Electric Bike Motor Kits are Open Systems. Falco's is a non-proprietary motor system or an "Open System" which acts as a propulsion platform that will accept data and power from a variety of batteries, throttles and command consoles already on the market. This allows for the flexibility to mix and match electric bike components based on rider requirements and parts availability.
Because the HX 5-phase motor's controller is built into the wheel hub, the Falco system is extremely adaptable and will recognize and accept batteries up to 55 volts. This allows you to carry a backup battery or to use various size batteries for different riding styles. The Falco System provides the flexibility that electric bike enthusiasts have been waiting for.
The Falco motor controller is integrated into the interior of the motor to improve efficiency, reduce cost and save space. Falco's Hx motor is technical breakthrough in brushless permanent motor technology with far superior power, torque and efficiency than the conventional three phase motors. Falco e-motors use a novel hybrid winding configuration with reduced copper weight to ensure high power density, deep torque density and a system efficiency that provides more power and range.
THE STANDARD 3-PHASE MOTORS THAT DOMINATE THE MARKET ARE ANTIQUES.
When compared to conventional three phase gearless or geared motors, Falco delivers a 25%, less weight, 36% more power and torque, an improved efficiency of 10% ,and 40% reduced cogging torque to ease pedaling resistance.

The Falco Electric Bike Motors may be activated by D-PAS crank sensor, torque sensor and thumb or twist throttle.
Range per charge will be significantly more with sensors when compared to throttle control.
Advantages of the Falco Electric Bike Propulsion System

Easy Installation
Just hook it to a battery (up to 55 volts), add throttle or crank sensor and hit the road!
DPAS (Directional Pedal Assist Sensor or also known as Crank Sensor)
Drive side installation with sensor and magnet ring inside the pedal crank. The torque sensor inside the motor can only work with select dropout configurations (mostly vertical). For other configurations, DPAS or throttle is required for motor activation.
Ease of pedaling with the motor off
Zero Cogging/Pedal Resistance is a unique feature of Falco's 5-Phase motor technology. The Falco motors have almost zero rolling resistance so pedaling is natural when the motor is off.
Customizable Installation
Front or Rear wheel
Customizable and removable disc brake and freewheel adapters included. This unique feature works well for front wheel installation where these adaptors can be removed or replaced.
Wireless Communication with Falco Display
Wireless command console with ANT+ Capability. The Falco Console is an optional tool and although it provides some amazing features, it is not required for the basic function of the motor.
Features and benefits

Falco Motor Specifications
Motor Weight
6 kg - 13 lbs
Rated Power
750 W
Peak Torque
25 to 80 Nm
Speed Limit
20 mph (US) + Off-Road Upgrade available with Falco Off-Road Console

Falco Motor Electrical Data
DC Supply Voltage
48 V (55V Max)
Peak Current
35A (Current Battery Limitation)
Nominal Current
18 A (Current Battery Limitation)

Advanced 5-phase motor technology
Open-Source motor system that is adaptable and easily upgraded with new batteries and accessories.
Direct & precise torque and power control.
Fewer wires and components for easy installation.
Front or rear wheel installation
Customizable and removable disc brake and freewheel adapter for every type of bike.
Multiple motor activation options – Throttle, cranks sensor or pedal assist sensor
Communication options – ANT + wireless /CAN /UART (RS232)/ 1 wire
 


Major thanks to Bob and all the beautiful folks at Team Hybrid UK. Great work, guys.

FALCO 750W Intelligent eM Hub Electric Bike Motor with Integrated Controller and Throttle

ORDER ONLINE
Motor only - $995
Motor built into wheel - $1125

Test ride the Falco electric bike system at Electric Cyclery in Laguna Beach, California. Electric Cyclery is an Authorized Falco Dealer and Service Center.

For more information and availability,
please call 949 715 2345.
© 2002-2014 Electric Cyclery - All rights reserved.
Celebrating a decade of electric bike sales and service.