I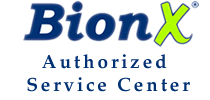 nstalling a Bionx electric bike system on your bicycle isn't that difficult. If your bicycle is in good shape and you've got a few tools, you can be up and riding your electric bike in an hour our two.
Have look at these comprehensive instructional videos from Bionx for a step by step breakdown of installing your Bionx electric bike conversion kit.
If these detailed videos don't answer all your questions, please feel free to call the Bionx experts at Electric Cyclery.
BIONX INSTALL OVERVIEW AND ESSENTIAL INFORMATION
BIONX INSTALLATION AND MOTOR ASSEMBLY
BIONX BATTERY OVERVIEW AND INSTALLATION
BIONX CONSOLE ASSEMBLY AND INSTALLATION