The long a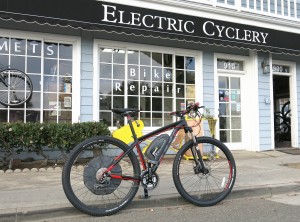 waited Bionx D-series has arrived.  Well, kind of.  Electric Cyclerly was graced with one of the new Bionx D-series 500 Watt kits for our valued customers to test ride and evaluate.  We installed it on a 2015 Felt Nine 60 to get the most out of this performance off-road electric conversion kit.
Electric Cyclery has been selling and servicing Bionx motor kits since 2005 but we've never seen anything like this from Bionx or anybody else for that matter.
This motor looks kind of weird – about the diameter of a medium pizza. It is ultra-thin so it actually fits between the spokes and it doesn't weigh much more than 8 lbs.
The Bionx D-Series motor is a powerful beast indeed. It ate up every Laguna Beach incline we could throw at it and consistently amazed us with the sensitivity of the pedal assist and the instantly accessible 50Nm of neck-snapping torque. Light and nimble for ripping up and down single track.  It must be ridden to be believed – whoa!
With its distinctive design and ground breaking engineering concepts, the Bionx D-series motor is slim, sleek and powerful. Really. really powerful and then some. Test ride now at Electric Cyclery in Laguna Beach, California.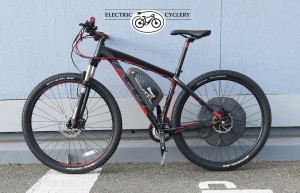 TS (Increased Tangential Speed):
By increasing the motor diameter, the tangential speed of the magnetic components also increases.
MCR (Magnetic Component Reduction):
By increasing the diameter of the motor, less electrical force is needed to produce torque.
NSC (Non Structural Cover):
An extra lightweight construction and super slim profile reduces the weight to only 8.5 lbs.
Both ITS and MCR are major contributors to the 250% increase in power output.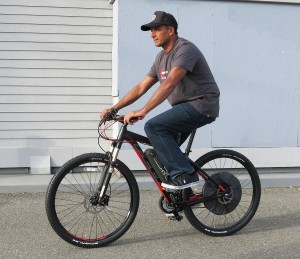 STC (Spoke To Center):
The spokes of the D-Series motor are attached to the centre of the motor, enabling the wheel to flex more in the vertical direction. This results in more comfort, more grip and more traction on the trail for the sport oriented rider.
Crazy Torque
At a peak torque of 50Nm and a steady state torque of 25Nm, the D-Series is aimed at the on-road and off-road rider who wants high performance and modern design in one product.
UPDATE: Bionx D-Series kits are now available – Get yours while supplies last.
Watch This